AVAILABLE SERVICES
Click any of the following links to jump directly to a specific services listed below:
(Click any record icon below to return to the top)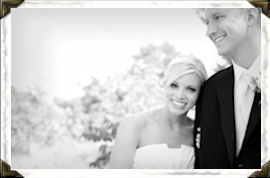 First Class Wedding Receptions
Congratulations on your engagement! You've made the first step in the next chapter of your lives and your new adventure begins with that very special day - your wedding! Sean's goal as your DJ and entertainment choice is to make this the most fun, most memorable and most entertaining night possible for you, your family and your guests.
This is accomplished by combining his experience with your ideas and considerations and developing those ideas to best fit the needs of your ideal reception. You can rest assured that all of your events will be well thought through and planned; your announcements and information will be presented professionally and will be understood; your music will be played in a format that's fun and captivating; and ultimately the focus will be left on you while you enjoy your special night!
The attention to detail begins with providing you with the Wedding Planner which allows you to pre-plan all the parts of your reception ahead of time so you don't have to waste time over-thinking or guessing in areas that perhaps you're unsure of. Alongside the Wedding Planner, you can rely on a one on one in-person consultation allowing you and Sean to meet and discuss all you concerns and needs. You can count on his experience, reliability and creativity to make your evening truly unique and truly your own!
Regardless of the scenario you're looking for, Sean will provide you with a flexible and one-of-a-kind style show performed with the highest of standards and the highest in skills. From chic and elegant to a party on the dance floor, you're in great hands being served by one of the most experienced and most talented DJs that Wisconsin has to offer. Don't hire someone to load up a used wedding playlist when you can hire a skilled entertainer. Anyone can play music. Few can entertain!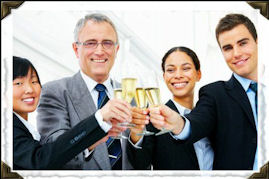 Corporate Events, Holiday Parties, Theme Parties & Other Events
Welcome to the big show...starring you! We've all been at the corporate party or annual event at one time or another, but the question is - was it fun? Summer picnics, Christmas parties, annual parties, conventions; whatever the scenario, you can rely on Sean's flexibility and experience to entertain individuals of all ages who enjoy music from all genres. Whether it's background music or a full-fledged interaction with your guests, you'll find that he possesses a natural and genuine ability to entertain and gain the attention of your guests.
The sky is honestly the limit when it comes to corporate events, holiday parties, theme parties or any type of party planning. Utilize the Party Planner to make note of your significant events and information and to plan your music and entertainment accordingly to fit your theme and your guests. Similar that to a wedding, Sean will work with you to develop your ideas and to recommend options for you based on experiences working with and entertaining groups of people from all walks of life.
Whether you're looking for background music for a cocktail party, an outgoing entertainer for you corporate Christmas or summer party or looking for someone to break the ice for your fund raiser or other event, you can count on Sean to adapt to any occasion. Don't be a face in the crowd dealing with the same ol' expectations from your employees or friends when you can select a high quality and fully talented entertainment option. Contact Sean today for more information, questions or general inquiries and he'll turn your agenda into a great time and a great memory!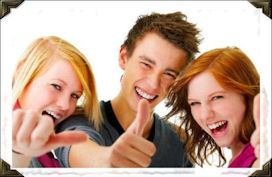 Formals, Proms, Homecoming & School Dances
It's time for Friday night lights - and sound! Party or dance after the big game? Decorating the halls for Prom, Formal or Homecoming? Sean is available to make the memory fun and complete. His experience actually began with a school dance as he and his friends put enough music and equipment together to throw their own school a party. Big city, little city and all the towns in between; regardless of what you're looking for you can count on Sean's experiences and flexibility to make your night of fun or high school experience one to remember.
You'll find that Sean has 'one-up' on other DJs because he's spent most of his career entertaining high school and college aged students and still actively does today. He's up to date with current music and possess the skills to keep the action up-tempo! When you choose Sean as your DJ you can expect to hear the requests that you select both ahead of time and during his performance. With internet access available, most songs can be purchased right away so there should be no going without!
Administrators and parents will have peace of mind knowing that the songs Sean plays will be tasteful and edited appropriately to be heard by anyone. Budget concerns? In many cases schools are dealing with a budget and they need to manage that budget with appropriate entertainment for their students. You can count on Sean to be flexible when it comes to negotiating a price that works best for you. Don't always expect that your needs will be met from local 'DJ trusty' down the street when you can have a top-notch entertainer available to you that's entertained hundreds and thousands of individuals over the years.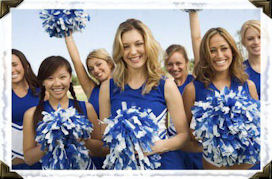 Custom Mixes, Team Pre-Game Music, Dance Team Music & More
Looking for a custom pre-game warm up mix of music? How about a lineup of popular, crowd- energizing, blood-pumping timeout snippets? Perhaps a custom cheerleading or dance team mix? Whatever the scenario might be there's a good chance Sean has already worked with or been a part of what you're looking for in music and music mixes. Nothing will get your target audience more pumped up than a customized mix of music specifically designed to fire up everyone on your team and in your building!
Sean has worked with dance studios, high schools, junior colleges, colleges and professional shows engaging in creations of and suggestions for sound effects to complete choreographed dance mixes. This experience includes high school and college level cheer and dance teams as well as working professionally with live shows. Take the next step from your home recording and go to the next level to create a mix of music that will get your teams and your fans ready to riot!
Sean is proud to have played a part in working with local high school and college dance and cheer teams that have competed and placed in state and national competitions. Another great example of seeking this type of service is the sporting event. You ever wonder why sporting events are so fun on TV and at the top colleges and professional sporting venues? You never hear their songs play with pauses, breaks or stops do you? Take the opportunity now to bring aboard a skilled artist who can put together your ideas and song favorites in a manner that excites and involves your listeners. From pre-game warm up mixes to time out songs, make every moment count as you and your team prepare and pave the way to a heart-pumping, musically inspired victory!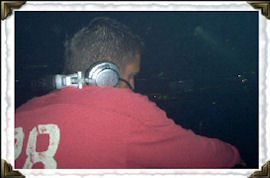 Nightclub Appearances & Residences
You can catch Sean locally in the Dallas, Texas "Uptown" area at Renfield's Corner, where the masses show for great times and a non-pretentious atmosphere. Sean spent most of his career as a resident DJ working the central Wisconsin night club scene entertaining generations of college students, local residents and tourists for years. As a commercial music style performer, he utilizes his experiences and influences to create a mix of music that is second to nobody. This includes crossover through nearly every music genre available and you can count on mash-ups, blends and crowd-interaction through mixes that keeps party-goers looking for more...re-defining the party DJ one show at a time!
His work also includes a great deal of crossover into old school favorites, alternative sounds, independents and much more depending on the scenario, the theme, the crowd and other factors. No one night is the same and the interaction continues from start to finish as Sean researches and delivers on new versions and song remixes nightly. Feeding off the crowd is one of his best assets and that combination results in a night of chaos on the dance floor leaving customers satisfied, happy and leaving with great memories.
Sean's long term residences include a variety of stints in Wisconsin extending to appearances in Chicago, Milwaukee, Minneapolis, Madison, Cancun Mexico, and scores of other small towns throughout the Midwest. As a true turntablist, Sean brings a unique blend of all music genres and combines his mix with perfectly-timed scratches and drops sure to keep any dance floor pumping or crowds entertained. He utilizes a variety of equipment types including turntables to produce his unique and constant flowing mix. A demo CD or mix is only an email away as Sean is open to making appearances at all types of venues!